Open M−F: 8:00am - 6:00pm
Close (Lunch) 12:00 - 1:00

Here at A Las Vegas Medical Group each and every patient is very important to us.
We are fortunate to have many fine choices for health care in Las Vegas and we value the trust you place in us.
Executive Team
---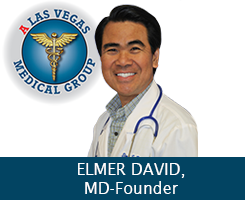 Dr. David is an American Board of Pediatrics certified Pediatrician, and a Neonatal-Perinatal Medicine Sub-Board certified Neonatologist. He completed a Pediatrics residency training under the Mt Sinai School of Medicine program in New York, and a Neonatology fellowship training at Cornell Medical Center/The New York Hospital in New York City.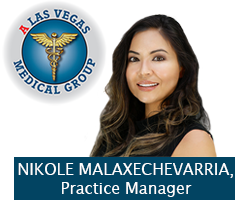 Nikole is a Las Vegas native and a graduate of the UNLV School of Allied Health.  She also holds titles of Certified Medical Assistant and Certified Medical Billing and Coding Specialist.  Her years of experience in the field of health care are a valuable asset to A Las Vegas Medical Group.  Nikole thinks of her staff as family, and strongly believes in a family environment for the practice.  She is passionate about health and fitness, and is the mother of two rescue pitbulls.  As Practice Manager, Nikole provides both guidance and support to all staff.
Providers
---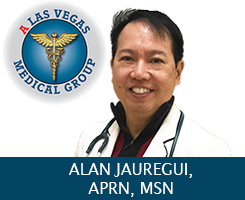 Alan Jauregui, APRN, MSN - Alan is a medical provider with 25 years of experience in the healthcare field. He graduated from University of Santo Tomas and has his Pediatric Residency at Cardinal Santos Medical Center. He pursued further studies at University of Nevada Las Vegas for his Family Nurse Practitioner degree. Dr. Alan was a practicing pediatrician in the Philippines for 10 years and has worked as a nurse practitioner for 8 years. We are proud to add his experience as a nurse educator, lecturer, clinical preceptor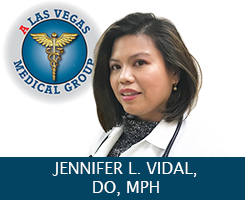 Dr. Vidal received her medical degree in 2008 from the Lake Erie College of Osteopathic Medicine in Erie, PA and holds a Masters of Public Health in Biostatistics and Epidemiology from the University of Medicine and Dentistry of New Jersey.  She completed her residency in Pediatrics in 2011 at the Children's Hospital of New Jersey at Newark Beth Israel Center in Newark, NJ and is Board Certified in Pediatrics (ACOP).  Dr. Vidal previously practiced at the Harrison Medical Group and Arlington Pediatrics in New Jersey, where in addition to private practice, she also attended well newborns at the hospital nursery and served as a school physician for both elementary and high school students in Harrison, NJ.  Her interests include personal fitness, sewing, knitting, and cooking regional Irish cuisine such as colcannon stew.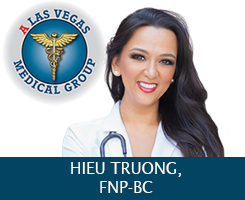 Hieu Truong is an ANCC board certified Family Nurse Practitioner (FNP-BC) and obtained her Master of Science in Nursing from the University of Nevada, Las Vegas.  Hieu's primary focus is Family Practice and she is passionate about providing quality patient-centered care for individuals throughout their lifespan.  Prior to a career as an FNP, Hieu worked as a Registered Nurse in the Las Vegas area hospitals caring for patients with medical, psychiatric, and substance abuse issues.  Hieu's hobbies are traveling, cooking, and helping others in need through volunteer work. She has volunteered in medical missions at Hospital Metropolitano in Quito, Ecuador and at Franco-Vietnamese Hospital in Ho Chi Minh City, Vietnam.  Hieu is fluent in English and Vietnamese and is welcoming new patients at this time.

Tôi rất vinh dự được chăm sóc sức khỏe cho các bệnh nhân của cộng đồng Việt tại Las Vegas, NV. Tôi hiện đang nhận bệnh nhân mới và hy vọng sẽ được chăm sóc cho bạn và gia đình bạn trong thời gian gần đây.
Patient Care Team
---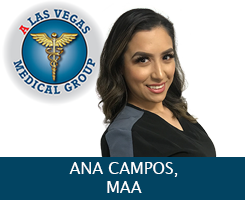 Ana is a 2014 Medical Administrative Assistant Graduate from Everest College in Henderson, Nevada. She is originally from Zacatecas, Mexico and has been in Las Vegas for the past 7 years. Ana is happy to help all of our patients, but has been invaluable in assisting with Spanish translation for non-English speaking families.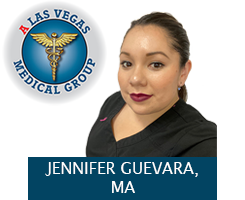 Jennifer graduated from Northwest Career College in 2013. She was originally born in Glendale California and moved to Las Vegas in 2006. Jenny enjoys working in the Front Office, and is well known for always treating patients with kindness and quality care. In her spare time, Jenny loves to spend time with her daughter and being with her family and friends. She also plans to further her education in the medical field.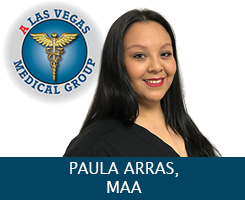 Paula graduated in 2018 from Carrington College as a Certified Medical Assistant. She is bilingual in English and Spanish and looks forward to learning sign language. Paula is fully trained in back and front office tasks, and is willing to assist patients whenever needed.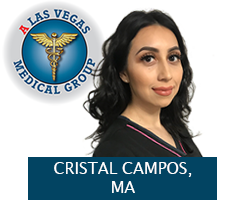 Cristal is a 2012 Medical Assistant Graduate from Everest College. She is biingual in English and Spanish, and is the mother of three beautiful girls. Cristal is always willing to help patients any way she can, and can always be found with a smile on her face.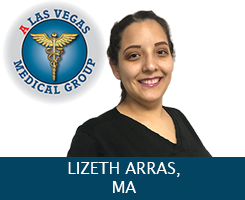 Lizeth is a 2015 graduate from Pima Medical Institute. She is originally from Chihuahua, Mexico and has been raised in Las Vegas, Nevada. Bilingual in English and Spanish, Lizeth is a useful resource and is always willing to help patients and staff in any way she can. In her spare time she loves spending time with her children and being with her family.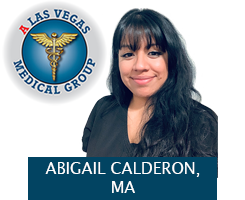 Abigail attended Northwest Career College and graduated in 2016 She was born and raised in California and relocated to Las Vegas in 2015. Abigail is a mother of two beautiful boys and plans on furthering her career in the medical field as an ultrasonographer.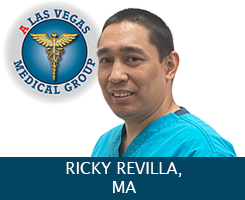 Ricky is originally from Hawaii, and growing up he learned to be kind and patient with everyone. Ricky loves taking care of patients and making sure they are healthy. Ricky is a Certified Medical Assistant, and is happy to gain further experience in the field as part of the ALVMG team. Ricky's hobbies are fishing and hiking.